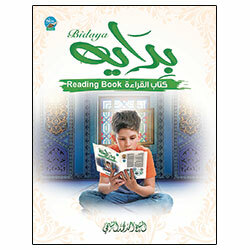 Product Description
With more than 50 additional words for each lesson the Bidaya Reading book covers all the different word cases and grammar situations of each lesson in the textbook helping the student practice with the maximum amount of examples for each lesson.
يحتوي أكثر من 50 كلمة إضافية لكل درس في الكتاب متضمنة لكل حالات وقواعد الدرس وذلك لمساعدة المعلم في الحصول على أكبر عدد ممكن من كلمات الدروس وكذلك لتدريب الطالب على إتقان القرءاة بمنهجية تفاعلية متدرجة.
أهداف مشروع كتاب بدايه:
صون اللسان عن الخطأ واللحن عند قراءة الكلمة العربية وعند قراءة كتاب الله , تحقيقاً لقوله تعالى (( إنا نحن نزلنا الذكر وإنا له لحافظون((
نشر فكرة تعلم قراءة القرءان واللغة العربية بطريقة حديثة مبتكرة ميسرة لكل الأعمار والفئات وبأغلب اللغات المتعارف عليها.
معالجة إشكالية قراءة القرءان بالحروف الأعجمية لدى غير الناطقين بالعربية .
معالجة إشكالية حفظ القرءان عن طريق السماع فقط وذلك بتعليم القراءة الصحيحة التي هي الأساس والمنطلق لتعلم مهارات الحفظ والإتقان.
تأسيس الطالب بمنهجية متدرجة على القراءة بأحكام التجويد الاساسية عند بداية تعلمه للقراءة من خلال كتاب بدايه .
تعليم مهارة كتابة الرسم القراني والإملائي الحديث وتطويرها بطريقة متدرجة شاملة من خلال كتاب بدايه.
تعلم القراءة من المصحف الشريف بطريقة صحيحة سريعة متقنة.
ما الميزه أو ما الجديد في كتاب بدايه :
كتاب بدايه قبل أن يظهر للعلن أخذ قرابة العشر سنوات عند تأليفه وتجريبه في حلقات القرءان والمدارس الإسلامية ولله الحمد فقد تعلم من كتاب بدايه و تخرج أكثر من ثلاثة الاف 3000 طالب بمختلف أعمارهم , منهم من أتم حفظ كتاب الله كاملاَ وأصبح معلماً يستخدم كتاب بدايه ومنهم من أصبح أماماً بالناس في صلاة التراويح والقيام.
كتاب بدايه مناسب وسهل لكل الاعمار من سن أربع 4 سنوات فما فوق الى سن الكهولة .
كتاب بدايه يحتاج الى فترة زمنية قصيرة مابين 20 – 25 ساعة دراسية لاتمام دروس الكتاب بكل سهولة ويسر

.

كتاب بدايه يحتوي على وسائل مساعدة حديثة ومميزة تعين المعلم على شرح الدروس بكل سهولة ويسر وأهمها الموقع الالكتروني وفيه شرح الدروس على شكل فيديوات مرئية حديثة ( الموقع الالكتروني – تطبيقات التليفون – شروح الدروس بمقاطع مرئية ميسرة -كتاب النشاط قراءة وكتابة – كتاب القراءة -دليل المعلم – الكروت التعليمية – الملصقات الحائطية )
كتاب بدايه تمت ترجمة شروحه الى عدة لغات ( العربية والانجليزية والتركية ) ويمكن ان يترجم الى عدة لغات .
كتاب بدايه ليست مادة علمية جامدة تصعب فهم فلسفتها وطريقة شرحها ، بل هو منهاج تعليمي مميز ومبسط لتعلم قراءة القرءان الكريم بمنهجية تعليمية وتقييمية وتوضيحية لمساعدة المعلم.
Specifications
Weight:

0.48 lb

Width:

8.25 in

Height:

10.5 in

Author:

Shekh Ahmad AlSheikhi

Media Type:

Paperback

Pages:

66